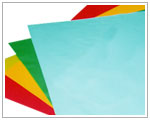 Our Plastic sheeting PO Film & Sheet is a special compound sheet with EMMA resin and EVA resin being the main raw materials.
Excellent workability with high frequency welders is a characteristic. It is eco-friendly as gaseous chlorine is not generated when incinerated making it an "ECO-Sheet".
Orders will be processed according to the requested thickness, width, color and molded pattern etc.

Examples of intended usages and product shaping
Besides general toys and stationery, the product has successfully been developed for air products that were previously difficult for PO Film & Sheet that can also be used in a wide range of fields.
Example :pocket noteboo, electric equipment case, stationery, miscellaneous goods, etc.