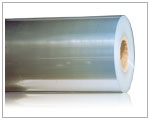 As our company's PS Film & Sheet products is highly translucent, has a luster and excels at being suitably shaped, it is therefore highly sought after for needs such as food containers, blister packs and packing material for electronic equipment.
Our company has two belt machines ensuring the completed sheet has an excellent smooth surface and printing capabilities.
Orders will be processed according to the requested thickness, width, number of meters and resin (GPPS, HIPS, special polystyrene) as per the intended purpose etc.

Examples of intended usages and product shaping
The product is bland and innocuous and highly resistant to water, therefore it has a wide range of uses from containing food to packing material.
Example : food container, IC tray, career tape, electronic equipment wrapping, etc.